Electric Toothbrushes vs. Manual: Which is Right For You?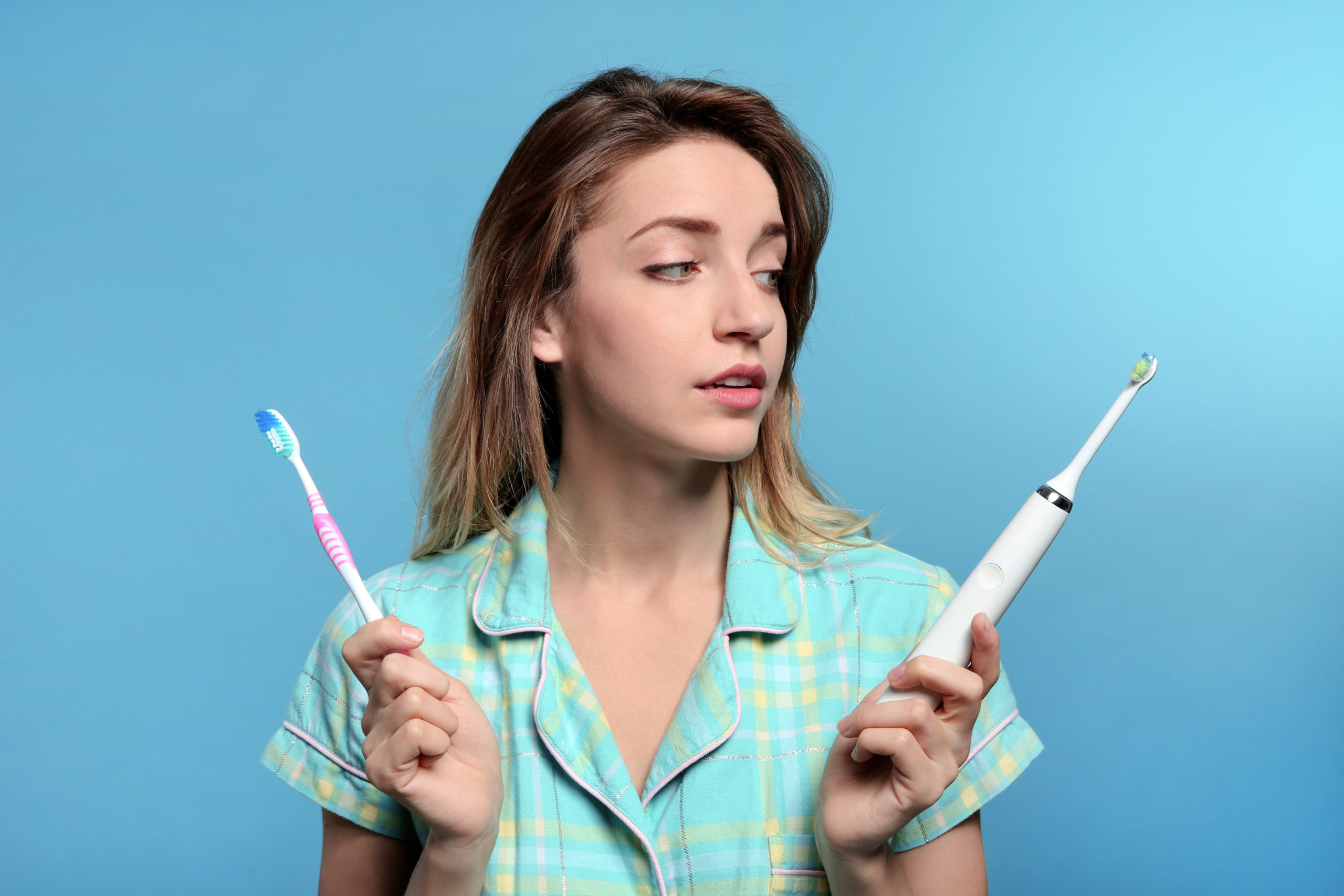 Properly brushing your teeth at least twice a day is the foundation for good dental hygiene. But, what's the best way to do so, and what are the proper techniques? Should you invest in an electric toothbrush or continue brushing with a manual one? Let's take a look. 
Electric Toothbrushes
In the past decade or so, electric toothbrushes have grown significantly in popularity. More people realize the importance of proper oral hygiene and recognize that an electric toothbrush can make that easier. 
Electric toothbrushes have been proven to decrease the amount of plaque in your mouth and the chances of gingivitis. They're also 'easier' to use, as the brush, itself, does most of the work for you. Furthermore, electric toothbrushes have timers for two minutes so that you know that you've spent enough time working on those pearly whites. Many electric toothbrushes today also vibrate every 30 seconds, allowing you to move from one-quarter of your mouth to another, and so on, until your two minutes are finished. 
It's no secret that kids don't like to brush their teeth. Electric toothbrushes make it fun for them and encourage healthier oral habits. Many children's toothbrushes even play a song or tune for two minutes, making it seem more like a fun playtime activity than a healthy chore, as many children see it. 
While there are many benefits to electric toothbrushes, the main negative attribute is the cost. Electric toothbrushes range in price but are oftentimes much more expensive than manual toothbrushes. On top of the base price, you also have to pay for brush heads, which you should replace every three months. 
Manual Toothbrushes
We are all familiar with manual toothbrushes; it's what we grew up with and many people still use them today. Manual toothbrushes are inexpensive, can be found anywhere, and can be used anywhere. They even come in travel sizes, to keep in your purse, work bag, or desk – you never know when you might need a quick brush. 
When done correctly, manual toothbrushes are quite effective at removing plaque. The proper technique for manual brushing is simple, although many people tend to apply more pressure and brush harder when using a manual toothbrush, oftentimes resulting in damaged teeth or gums. If you are committed to your manual toothbrush, first make sure you are using the right-sized brush for your mouth. Also, ensure that you use a soft-bristled brush, as hard bristles can irritate your gums.
Manual toothbrushes do not come with a timer, causing many people to brush for less than the recommended two minutes. Setting a timer on your phone, however, can counteract this. 
While electric toothbrushes can be 'fun' for kids, starting them with a manual toothbrush may be better. When babies get their first teeth, there is no need to use an electric toothbrush; a gentle, manual toothbrush meant for young children is preferable. This continues for the next few years. After that, whatever they are most comfortable with is the best option. Some children may find the vibrations strange, which could turn them off even more from brushing their teeth. To find out what's best for your child, talk to them! They'll let you know which they prefer and you can help them from there. 
The Bottom Line
Depending on your lifestyle choices, age, and price point, there are pros and cons to electric and manual toothbrushes. While electric toothbrushes are easier to use and help your teeth receive a better clean, they are not for everyone.
At Cakmes Dental Studio, we treat each patient with the individual care and attention that they deserve. We are always happy to help our patients in their oral care journey, so give us a call if you have any questions or want to know if an electric toothbrush or manual toothbrush is right for you.
Related Posts: