Back-to-School Oral Care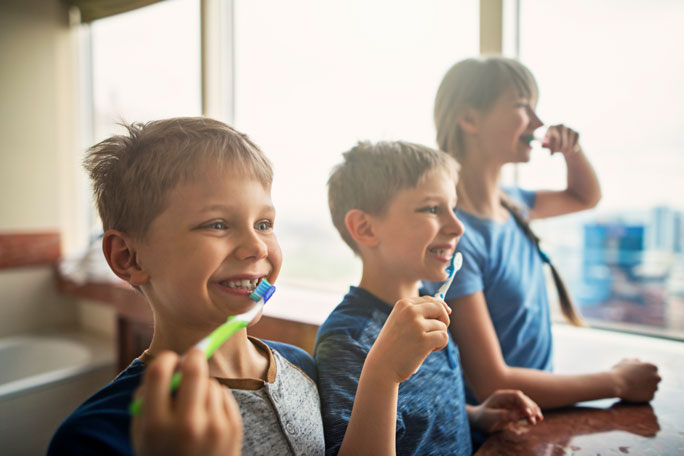 We know that the beginning of the school year is usually chaotic. There's that transition from lazy summer mornings to rushing to get the kids on time for the bus. However, we believe that oral care shouldn't be neglected especially at this period. Dental issues such as tooth decay can cause an increase in your child's missed days in school.
To help you out, we've outlined some of the best back-to-school dental care tips:
Teach your kids how to brush and floss properly
Brushing and flossing the teeth regularly are some of the simplest ways to prevent diseases of the gums and teeth. Until your child reaches the age of 7, monitor how he/she brushes and flosses his/her teeth. Make sure that your child brushes his/her teeth long enough. You may want to set a timer for 3 minutes to ensure this.


Be careful of what your kids eat and drink


Your child's diet plays a significant role in his/her oral health. Provide your child with healthy snacks and meals at home and for school. It's also best for their oral health to limit their consumption of sweetened drinks and treats.

Learn how to handle dental emergencies
Accidents are inevitable especially when you have an active kid. These accidents may cause their teeth to get cracked or knocked out. Before these happen, make sure you know how to handle the situation.
When your child's tooth is accidentally knocked out, carefully pick the tooth without touching the root. Keep the root moist by temporarily placing it back in the socket or placing it in a glass of milk.
In cases of a cracked tooth, have your child rinse with a glass of warm water. This will rinse any debris in the mouth. If there's inflammation or swelling, place a cold cloth against your child's cheek and call your dentist for further instructions.
Schedule a dental check-up at least once a year
Before the school year starts to get busy, you may want to schedule your child's dental check-up at the beginning of the school year. 
A dentist can check your child's teeth and gums. Seeing a dentist can also ensure your child gets routine dental care before any tooth/gum issues arise.
Cakmes Dental Studio is a family-oriented dental clinic. We take pride in taking care of patients dealing with various dental issues. To schedule an appointment with us, please call (865) 584-6163.
References:
https://www.dynamicdentalinc.com/blog/back-to-school-6-dental-care-tips-from-your-family-dentist
https://consumer.healthday.com/dental-and-oral-information-9/misc-dental-problem-news-174/back-to-school-tips-for-healthy-teeth-700904.html
Related Posts: