How do I fix bad breath?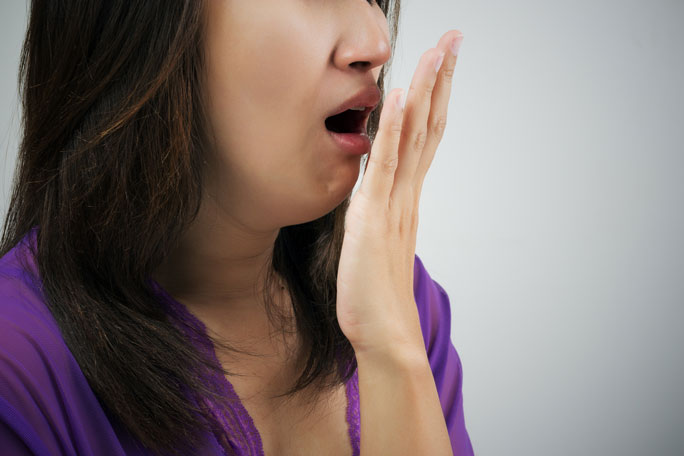 Halitosis is different from the usual "morning breath" or strong smell that stays after eating a tuna sandwich. It's chronic bad breath that extends for a certain period of time and can be a sign of something more serious.
What causes halitosis?
Chronic bad breath can be a symptom that something is going on with your body, including:
Dental issues




Cavities and gum disease are common mouth issues that can cause halitosis. Both of these conditions create extra places for bad breath-causing bacteria to hide, making them more difficult to clear out when brushing or flossing.

Dry mouth




Your saliva plays an important role in your dental health. It helps remove unwanted leftovers in your mouth and aids in the breakdown of food. If you don't make enough saliva, you may suffer from bad breath. This can happen as a result of medications, certain conditions, smoking, and excessive alcohol use.

ENT infections




Infections of the ears, nose, and throat may cause bad breath. It's because the bacteria feed on the mucus that the body produces when it's battling an infection.
What are the remedies for halitosis?
Fortunately, there are ways you can do to fix your bad breath problem.
Maintain good oral hygiene




Many cases of halitosis are linked to poor oral hygiene. If you don't brush and floss your teeth very well, the mouth breaks down the tiny pieces of food that are caught between your teeth. This can produce an odor similar to rotten eggs.





Also, if you don't brush and floss your teeth well, it can provide a very suitable environment for bad breath-causing bacteria to thrive.

Don't forget to scrape your tongue




Regular brushing and flossing helps but it's not enough. Remember, the tongue also houses tons of food particles. So, it's important to include it as part of your oral hygiene routine.





Get your tongue cleaned by brushing it or using a tongue scraper.

Check in with your dentist




If you've been consistent with your oral hygiene routine and still suffer from bad breath, you may want to schedule an appointment with your dentist. With a good, thorough cleaning and exam, your dentist can determine what causes your halitosis and can advise you on your next steps.





Cakmes Dental Studio has well-experienced dental staff who can help you with any dental health issues. We take pride in the quality of dental care we provide to our patients. To request for an appointment, you can call us at

(865) 584-6163.
References:
https://www.webmd.com/oral-health/features/natural-home-remedies-for-bad-breath#1
Related Posts: